Taking the family to the movies is not a frugal activity at all! How can you make movie night at home more of an event?
Tonight we are planning on getting back into our "movie night" routine. Pick a movie we own, or on Netflix (gotta love the live streaming on the Wii!) and we all plan a menu around that. Sometimes it gets stretched a little bit, or the strange sense of humor breaks out! There may be a food from the movie, or something that makes you think of it. With
Pirates of the Caribbean
, I think we had seafood of some sort, and I know we had some Pirate Booty cheese snacks! We got Chinese take out when we watched
Mulan
. At 9 - Joey knows where most food comes from, and is growing quite the sense of humor. I can mention
Finding Nemo
as a possible movie - and he'll get a twinkle in his eye and I know what is going to come next.... Sushi.
I'm looking forward to having this be a summer project for Joey - stretching his imagination, planning meals within a theme and budget, and taking ownership of part of family night. If we don't know much about the movie - sometimes our dinner choices are a bit off - but we have fun anyway.
But what you really want to know... what's for dinner tonight?
Shepherd's Pie
Yorkshire Pudding
Cauldron Cakes
Butter Beer
Any ideas for the movie?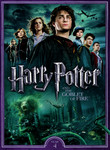 Joey finished the book a while ago - so now we get to watch the movie!